Clay County Savings Bank formed in 1922 to serve the home financing needs of the public; our focus is now on serving the expanded personal and small business banking and credit needs within the communities where we are now located.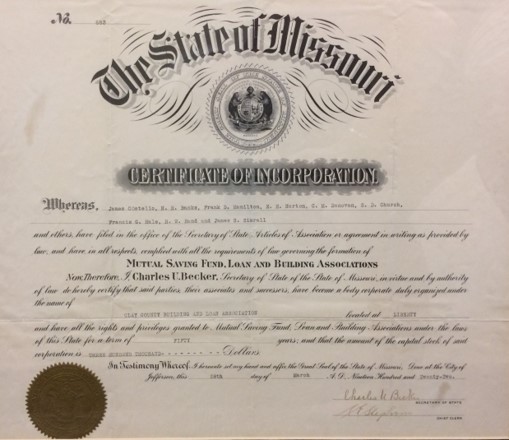 This is the original Certificate of Incorporation of Clay County Savings Bank (orginially Clay County Building and Loan Association) issued by the State of Missouri currently on display at our Main Office
We have a commitment to personal attention and exceptional service as we strive to be the friendly neighborhood bank where customers are known by name.
In addition to a full range of products and services, our customers have access to three banking facilities (plus an ATM in Smithville) in the Clay County, Missouri, area with convenient hours, access to over 4,200 ATMs worldwide without fees and surcharges, and access to accounts 24/7 through our online banking and mobile app. Our customers also enjoy no afternoon cutoffs, allowing deposits made during business hours to be credited the same day regardless of the time of day, even on Saturdays. Loan decisions are made locally by our management team, and we service almost all of our loans we make.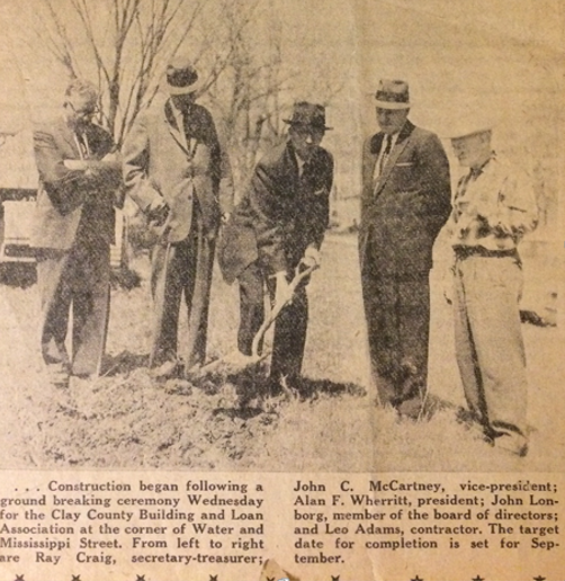 Article from the front page of the Liberty Tribune Newspaper (April 21, 1961) pictured, left-right: Ray Craig, Secretary-Treasurer, John C. McCartney, Vice President, Alan Wherritt, President, John Lonborg, Director, and Leo Adams, Contractor at Ground Breaking Ceremony for our former Main Office in Liberty located on Water Street.
The Bank is a community-oriented financial institution offering select financial services to meet the needs of the communities it serves. Although established primarily to meet the home financing needs of the public, the Bank is now a full-service financial institution that serves the expanded credit needs of residents and businesses in its market area. The Bank currently offers a variety of deposit accounts, including personal and business checking accounts, statement savings accounts, flexible-term certificates of deposit, and individual retirement accounts. The Bank's lending activity consists of permanent and construction single-family real estate loan financing, loans secured by multi-family and nonresidential real estate, home equity and other consumer lending, and commercial non-real estate financing.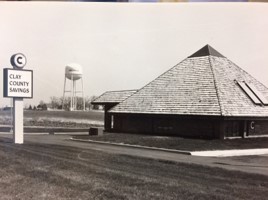 Our fomer Smithville Office and current Kearney Office was built in the late 1970s and had been designed with energy-conserving structures. The roof was oriented to maximize the use of solar collectors. The most striking feature of the building was the skylight located in the pinnacle of the roof. Light from this opening fell into the lobby of the interior with offices, teller stations and supporting spaces located around the periphery of the building. Architects for the project were Architects Design Collaborative of Kansas City. Left picture is our Smithville Office in the 1970s, and right picture is from its Ribbon Cutting.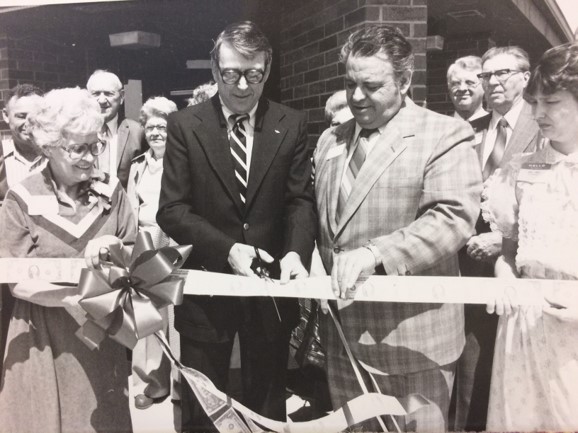 Our name may have changed over the years, but we are still your local community bank.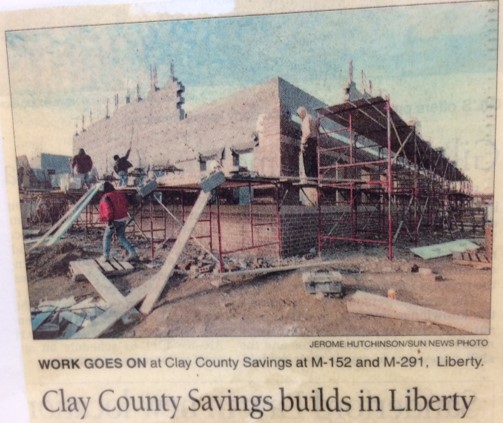 Picture: Clay County Savings Bank's New Main Office under construction January 19, 2000. This building is a 15,000 sq. ft. facility at the corner of Highway 152 and Clayview Dr., and was the fourth location in the Northland. It tripled the size of the office at North Water Street, featuring 5 drive through lanes, 2 ATMs and safe deposit boxes.
Clay County Savings Bank was founded in March 1922 and operated under the name Clay County Building and Loan Association until February 1967, at which time the Bank was renamed Clay County Savings and Loan Association. Originally a state-chartered savings and loan association, the Bank converted to a federally chartered savings and loan association in 1995. In 2003, the Bank converted from a mutual to a stock form of ownership and converted to a federally chartered savings bank, changing its name to Clay County Savings Bank in the process. In May 2015, the Bank converted from a federally chartered savings bank to its current status as a state-chartered bank. The Bank's deposit accounts are insured up to a maximum of $250,000 by the Federal Deposit Insurance Corporation (the "FDIC"). It is currently regulated by the Division of Finance of the State of Missouri and the FDIC. The Bank is a wholly owned subsidiary of CCSB Financial Corp. (the "Company"), a Delaware corporation, which was incorporated in September 2002.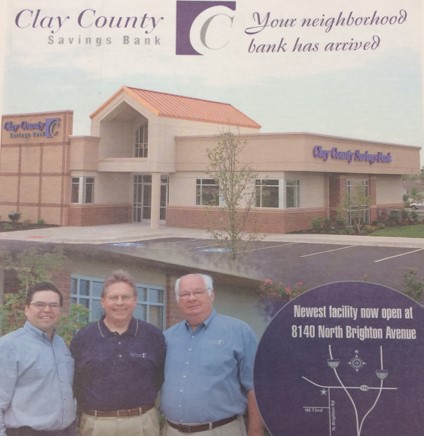 Left Picture: An Advertising Special Section to The Kansas City Star June 7, 2006. The ad was taken out to celebrate our North Brighton Office Grand Opening on June 14, 2006.Right Picture: Will Turpin, Mario Usera, Deb Coltman, John Cooper, Jeff Price, David Wilmshorst, John Davis, Al McKinley, Jeff Billings, Bob Whipple, Deb Jones, Keith Oberkrom and Kathy Varnon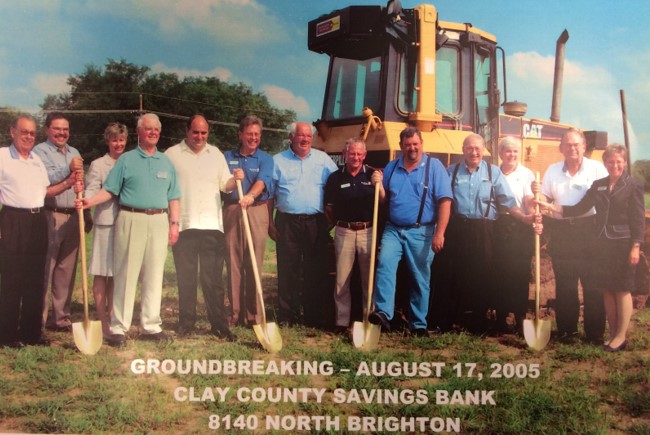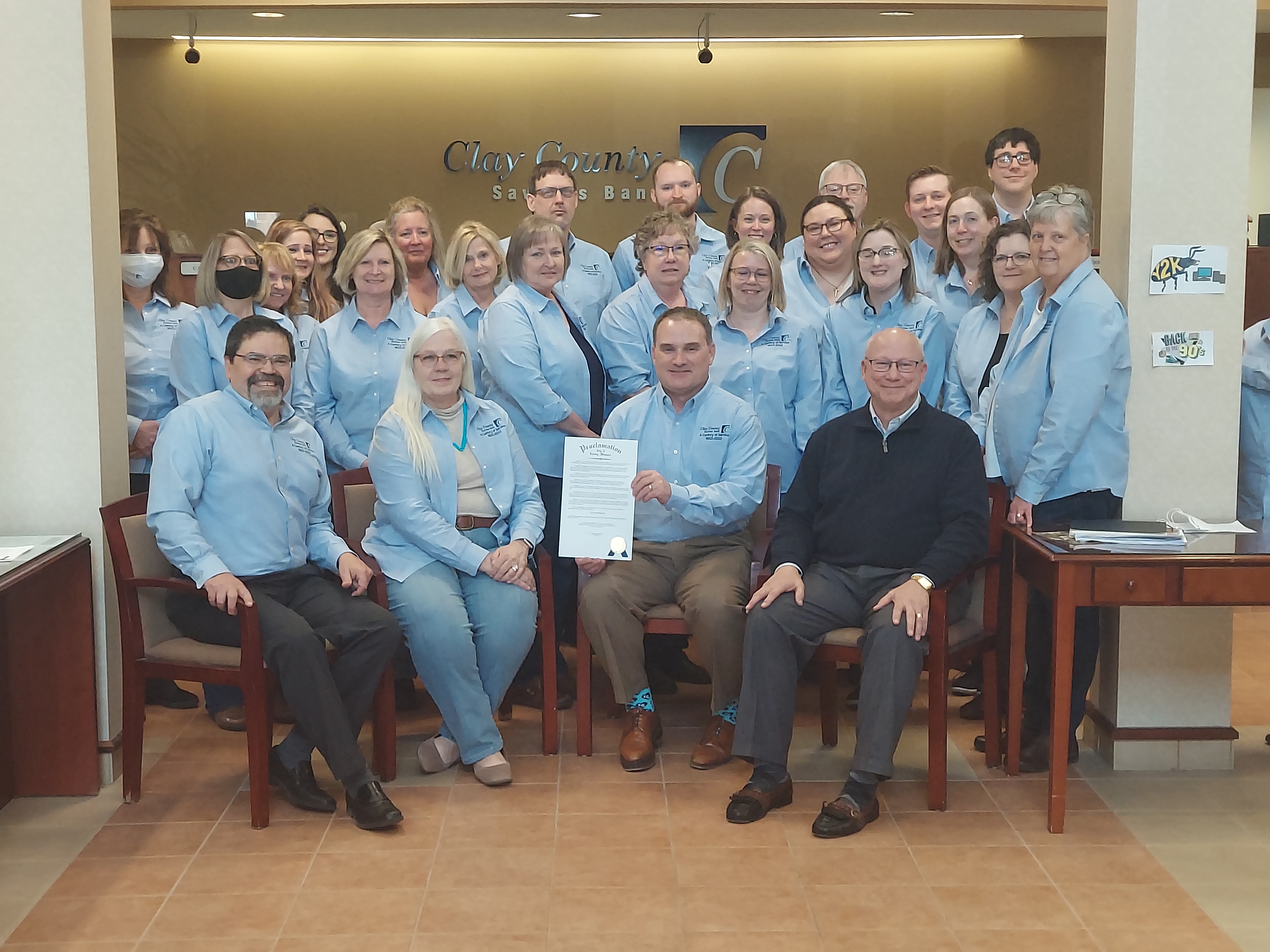 Picture: Liberty Mayor Brenton deliveried the Bank a proclamation on its centennial milestone achievement.
Community Bank, Community Proud Since 1922